ZOMBIES NEED BRAINS'
first SF&F anthology
Clockwork Universe: Steampunk vs Aliens
. I took one of the prints down and had it framed. I figured I'd share it with everyone, so here's a pic of what it looks like with the frame I chose. I think it's awesome. Those who pledged at the "Artistic Zombie" level for the kickstarter for the anthology have already received their reward prints and I hope they enjoy them. I do have additional prints available for sale at $250. These are unframed, signed, numbered prints. If you are interested, please message me here on LiveJournal about how to get one of the prints for YOUR wall.
I've recently gotten the "Steampunk Octopus" prints, signed and numbered, back from the artist Alex Broeckel. These are the prints of the art that I'll be using for the cover of the new small press
I'm thrilled to be heading over to Ohio this weekend to be a Guest of Honor at Millennicon. Here's the schedule, just in case you want to come say hello or make sure you know how to avoid me all weekend.
Friday


6 pm, MR 1210, HAPPY BIRTHDAY! (In which the convention throws a birthday party for my son, because they are AWESOME!!!)


7 pm, Harrison, Opening Ceremonies


8 pm, Con Suite, GOH reception


Saturday


10 am, Harrison, GOH Reading


2 pm, Hotel Lobby, GOH Autographs


3 pm, McKinley, There are No Dumb Questions (Moderator)


Sunday


10 am, McKinley, Fan Fiction and "Real" Writing


Noon, Hotel Lobby, GOH Autographs


2 pm, Harrison, GOH Q&A


3 pm, Harrison, Closing Ceremonies


Tom Smith will be there as Filk Guest of Honor, which should make my wife happy. She tolerates me, but she'd much rather hang out at one of Tom's concerts ;-)
There are a lot of great people at this one, some of whom I haven't seen in a while, so I'm expecting this to be a lot of fun.
Jon's latest book has hit the shelves now. It's called
Blood and Iron
and is the first book in an epic fantasy series from Pyr. It's action-packed and according to some, "a sword-and-sorcery
Spartacus
set in a richly imagined world." Here's the cover art and cover copy. You can find out more details at
the Pyr website
, and find out more about Jon Sprunk at
his own website
(including the assassin books).
Cover Copy
: It starts with a shipwreck following a magical storm at sea. Horace, a soldier from the west, had joined the Great Crusade against the heathens of Akeshia after the deaths of his wife and son from plague. When he washes ashore, he finds himself at the mercy of the very people he was sent to kill, who speak a language and have a culture and customs he doesn't even begin to understand. Not long after, Horace is pressed into service as a house slave. But this doesn't last. The Akeshians discover that Horace was a latent sorcerer, and he is catapulted from the chains of a slave to the halls of power in the queen's court. Together with Jirom, an ex-mercenary and gladiator, and Alyra, a spy in the court, he will seek a path to free himself and the empire's caste of slaves from a system where every man and woman must pay the price of blood or iron. Before the end, Horace will have paid dearly in both.
Hey, all! I'd like to introduce you to my "shadow twin," Jon Sprunk. I met him at Balticon because we share the same agent (Joshua Bilmes), and during our drinks and chat we discovered that WE ARE TWINS! He wrote a book about an assassin; I wrote a book about an assassin! And . . . well, it got scarier from there.
My therapist shared something interesting earlier this week. With the caveat that this is all a bit simplified, and human brains don't fit into neat lines and graphs, it still helped me to think a little differently about depression and anxiety and stress, and to understand both myself and certain other people in my life a little better.
She started by drawing the following graph:
This fits pretty well with my experience. There's a relatively straightforward relationship here. The more depressed you are, the less productive you are. (Giving lie to the myth of the tortured artist who's most productive when they're depressed.)
Next, she drew a graph of anxiety.
This one also made sense, once we talked about it a bit. If you have absolutely no anxiety, you end up with a lot less motivation to produce anything. Take away all of my deadlines, and I'm definitely less productive and more likely to spend an evening bumming around on the couch watching Doctor Who. Not that there's anything wrong with that.
On the other hand, too much anxiety can be crippling, with the far extreme being someone who can't even leave their room or home.
So basically, we want to minimize depression and find a healthy and moderate level of productive anxiety. Got it. So far, so good.
What gets interesting, at least for me, is looking at the implications of the two models. If depression is more of a linear thing, it means you have that straightforward goal of getting as far to the left as possible. This also means small steps to fight the depression are more likely to have small steps in improving your productivity. It tends to be a long, slow battle.
I've been in therapy and on medication for depression for about two years now. This has had a pretty large impact on the depression, and when you look at my productivity these days … well, I'm doing two books in 12 months instead of my usual one. Smaller improvements have led to smaller changes in productivity, like being able to keep up with washing the dishes. Again, it's not a perfect graph, but it makes sense to me.
I sketched in two sample changes in mood. If the depression improves by X, productivity also improves by X. That tends to hold true whether you're really depressed or in a generally good space. (Yes, I'm simplifying the math and assuming a 1:1 slope.)
Anxiety, on the other hand, resembles a bell curve. That means any given change in your anxiety can have drastically different results, depending on where you happen to be on that curve.
Look at this next graph. Both of the horizontal lines, indicating a change in anxiety, are the same. The vertical lines, showing change in productivity, are not.
For someone near that ideal middle-ground, a small increase in anxiety of amount X could have a relatively small impact on productivity, perhaps X or even X/2. On the other hand, if you're more anxious, the same increase of X in your anxiety could have a much larger impact, hurting productivity by a factor of 2X, 3X, or more.
Likewise, for someone who's struggling with anxiety, removing just a small stressor could have a very large impact, and help exponentially.
And the exact same increase in anxiety can actually boost productivity for someone to the left of the curve as much as it hurts someone to the right.
This was an AHA moment for me. I spend a fair amount of time working with people and trying to motivate them, whether it's my employees at the day job or my children at home, and looking at that Anxiety graph helped to crystallize why the same tactic can have very different results for different people … or even for the same people at different times.
Someone on the left side, who seems to be slacking because they don't really care? Maybe their anxiety needs to be turned up a bit, by talking about potential consequences. On the other hand, for someone on the right side of the graph who's already close to a panic attack, potential consequences are likely to push them even further, making things that much harder for them. In that case, trying to take a little of that anxiety off their shoulders can help tremendously.
I see some of the same effects with the way stress and anxiety intertwine in my life. There's a certain middle ground where I can add or remove things I need to get done, and it doesn't have much of an impact. But once I hit that tipping point, just a small increase in stress can drag me down hard.
Like I said at the beginning, this is a bit of an oversimplification. Human beings tend to be pretty complicated and messy. But seeing depression and anxiety drawn out like this was really helpful for me, so I figured I'd share it in the hope that it might help a few of you as well.
Mirrored from Jim C. Hines.
WisCon is happy to have limited ASL interpretation again this year. If you are an ASL user and would like to arrange for interpreters, please contact access@wiscon.info. Thank you to the Wisconsin Department of Health Services and to the concom for generously providing funds to help us hire interpreters.
Over the weekend, I had another clueless dude try to give me crap for "working so hard to manufacture outrage," and for always "choosing to be offended." It's a tired and unoriginal refrain, but I'm going to try to do something a little different this time. I'm going to agree with clueless dude, at least to an extent. Because he's right. For me, a great deal of the things I write about, and the fact that I'm upset by some of what I see in the SF/F community, these are choices.
A few of the things I've chosen to be offended about lately…
Big name authors publicly mocking and belittling people for asking for representation in SF/F.
The rewriting of history to present last year's SFWA Bulletin mess as being about a single cover as opposed to an ongoing problem, one that culminated with two big name authors using the Bulletin as a platform to accuse those who disagree with them of being "liberal fascists" and anonymous cowards.
A major convention belittling concerns about sexual harassment and refusing to implement a policy … and then minimizing and belittling the experience of multiple individuals who reported being sexually harassed at that convention.
The backlash against a Hugo host being transformed into a factually incorrect narrative that rakes an individual woman over the coals in major media outlets for the crime of expressing her fear and anger.
Generally, when folks recycle the accusation that people are looking for things to be offended by, the word "offended" is used as a minimizing tactic. It suggests overly fragile and sensitive individuals with bruised feelings. A more accurate choice would be "pissed off," "hurt," or "sick of this crap." Kameron Hurley uses the term "rage" when explaining that the anger doesn't come from a minor, isolated incident.
The thing is, most of these incidents don't hurt me directly. Representation in SF/F? As a straight, white, American male, I'm incredibly overrepresented in my genre. Conventions that don't take steps to reduce sexual harassment? I've been harassed a total of once in more than a decade of congoing, and it's not something I'm particularly worried about happening to me again. The threats, hatred, and vitriol aimed at women online and in the real world? Hey, it's not coming toward me, so who cares?
When you're not the one being hurt, you might not even notice the problem. You might decide it's all blown out of proportion. Or maybe you admit that yeah, there might be a problem here, but you blow it off because the solution would inconvenience you in some way, or make you uncomfortable.
When you see someone saying they're hurt or afraid, you can choose to mock that person. You can choose to ignore their concerns. You can choose to blow them off by saying they're manufacturing outrage and looking for reasons to be offended, as if pain and anger and fear are just another hobby, like collecting spores, molds, and fungus. You can choose to ignore the evidence, to disbelieve the repeated stories of ongoing harassment and the countless people speaking out about specific incidents that make them feel unwelcome and unwanted in your community. You can choose to interpret anger as "bullying," and calls for inclusion as "political correctness run wild."
You could also choose to listen. You can choose to believe that when someone says, "Hey, this is hurting me," they're telling the truth. You can look around at how racially homogenous most conventions are and believe the people telling you why they feel unwelcome, instead of dismissing it as a coincidence or making up falsehoods about how "those people" just don't read or don't care about SF/F. You can recognize that just because a problem might not directly affect you, that doesn't mean it's unimportant.
You're right. I choose to be offended angry. I see people talking about how finding someone like them in a SF/F story literally saved their life. And then I see people responding with mockery and derision to calls for broader representation. I see people who have traditionally been ignored and silenced raising their voices to speak about their experiences, only to have those experiences dismissed as "butthurt" by those who haven't had to live through them.
When I choose to be angry, and to speak out about things, it's because I see people hurting.
No, that's not quite right. It's because I see the that the things we're doing are hurting people. That pain isn't imaginary. It's not a cover to try to take over the genre and control everyone else, as one commenter suggested. It's real. And I've got to believe that if more people could get over their discomfort and defensiveness and just listen, they might see it too. They might even be able to help solve some of the problems.
Basically, when people talk about something that's hurting them, you can choose to care. Or you can choose not to.
Mirrored from Jim C. Hines.
http://wiscon.info
to the hotel's reservation system says, "all rooms full."
However, when I called their toll free line, 800 356 8293, they were happy to book me a 2Q room for the weekend at $137/night (compared to con's rate of $104 for one person).
Yes, following the link from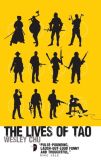 The Lives of Tao [Amazon | B&N | Mysterious Galaxy], is Wesley Chu's first novel, and I kind of hate him a little bit for that. I picked up and started reading the book because I had met Wesley a while back, and he seemed like a pretty cool person. I finished reading it because it's such a fun read.
Tao is basically a symbiotic life form, one who requires a human or animal host to survive on Earth. His people crash landed on our planet ages ago, and are now at war. Tao and the Prophus want to peacefully encourage humanity's evolution until our technology is advanced enough to help them get home. The Genjix are believed to have similar goals … minus the "peacefully" part.
After a mission gone wrong results in the death of Tao's human host, he's forced into the body of an unambitious, insecure IT technician named Roen. This is the time, when he's stuck in an untrained host, that Tao is most vulnerable. He has to keep Roen alive long enough to get him trained, and eventually to try to figure out what the Genjix are really up to this time.
Like I said, the book is a lot of fun. Tao is a great character, one who has existed in some of the greatest hosts in human history. (Genghis Khan, for example.) Tao tells Roen dream-stories about some of his past lives at the start of each chapter, which gives him (and us) the background of both Tao and his people.
Tao has tons of experience and knowledge, but upgrading Roen to superspy status isn't as easy as simply plugging him in. There's plenty of banter, entertaining training scenes, lots of action, and characters you want to keep reading about.
The only real complaint I have isn't about the writing so much as it is one of the tropes Chu uses in the book. He's created a world in which many of the wars and tragedies of human history were actually engineered by the Genjix. While it makes sense in the context of the book, I've never liked that particular trope, since it would seem to excuse us for our own atrocities. I know it's fiction, but it still bugs me. Humans are capable of amazing things. We're also capable of horrible, evil things. Pretending otherwise feels like lying about human nature.
Like I said, it's a personal peeve.
There's a twist in the ending that I saw coming pretty early on, but overall, it's a good ending, one that wraps up the events of this book while making it clear there's more to come in the series.
You can read an excerpt of the book at Tor.com. I'm looking forward to reading the sequel, The Deaths of Tao.
Mirrored from Jim C. Hines.
http://journal.neilgaiman.com/2014/03/look-quick-one-with-bargains-in-it.html
posted by Neil Gaiman
http://journal.neilgaiman.com/2014/03/in-which-it-is-demonstrated-that-i-have.html
posted by Neil Gaiman
Yesterday I got up early, left the new house I'd barely settled into, and hit the road with the kind of overstuffed suitcase you pack when you'll be on the road for a couple of weeks and you aren't quite sure what you'll need to wear, and you'll be in three completely different climates during that time.
I flew to Philadelphia and went to Rowan University in southern New Jersey, where I met photographer
Kyle Cassidy
(aka my friend Kyle Cassidy). We did a Master Class together, answering questions, talking about what we do and how we do it, and, at one point, reading stories and showing photographs from
Who Killed Amanda Palmer
. Then I gave a talk that was also a reading as part of the Rowan University Presidents' Lecture Series, that was as much fun as the talk/readings I did in Billings and Calgary, and the audience seemed to like it, and I loved how comfortable I'm starting to feel on stages in universities and such. I no longer feel, when I'm out on the stage, like I'm faking it, or that I'm there under false pretenses.
As Kyle and I were walking through the campus he pulled out a camera and took these photos...
It was windy. My hair does not normally try to escape.
I look like I was living out in the frozen wilderness, where I was panning for adjectives or something else that wild writers do.
If you go to
http://thedeanblog.com/kyle-cassidy-and-neil-gaiman-bring-the-creative-to-ccca/
and read about the day from the Dean's point of view, you'll see a photo she took of Kyle taking the bottom photograph. How unusually recursive.
(The first question to be asked at the talk was "What's up with the beard?" and I expained it was my hiding out and being anonymous beard, but has survived because Amanda wanted to see it when she returns from Australia.)
Then I flew to San Francisco (I finished Monica Byrne's lovely THE GIRL IN THE ROAD on the plane and also proofread the second GRAVEYARD BOOK graphic novel, and went over J. H. Williams' breakdowns for the third part of SANDMAN: OVERTURE.) It was a mostly quiet flight, although it was also the first time I've ever seen the pilot of a plane come out and explain to drunk and unpleasant passengers that if they didn't stop being unpleasant he would have them arrested.
Let's see. Important things... apologies to Detcon 1, I'd wanted to post about their nomination process for their YA and Middle Grade Fiction Award,
but I missed the deadline.
I very nearly missed the deadline to tell you that the
Coraline
ebook is an Amazon US GoldBox special tomorrow (Sunday), and it will be Very Cheap Indeed.
(I think the link is http://amzn.to/1fO9R5X but that might possibly be the wrong ebook edition.)
(Here is the correct link to get the GoldBox price. -- web goblin)
The folk making the
Wayward Manor
video game have let me know that the pre-order site,
http://whohauntsneil.com
, is coming down in a week. So if you want to pre-order the game, the t-shirt, or even attend the pricy and exclusive but incredibly cool haunted Magic Castle dinner with me, you should click over to
http://whohauntsneil.com/welcome/#shop
and buy all the things with alacrity.
Wayward Manor
has
just gone up on the Humble Store,
where you can also preorder it, and it will remain there for the couple of months until its actual release.
The Guardian has a photoset of the 26 Characters for the Story Museum. You've already seen me as Badger here on the blog, but
this is your chance to see Hanuman and Till Eulenspiegel and the Wicked Witch of the West
...
and finally...
On April 4th, cartoonist, designer, artist, writer and teacher Art Spiegelman and I will be in conversation at Bard College, NY state. We will talk about comics and MAUS and music and art and being Jewish and life and everything I have ever wanted to ask Art. (Or he will ask anything he's ever wanted to ask me.)
Tickets are available now
. Please come: It's a big hall and we will be lonely if it echoes.