A quick note that I'll be hanging out and signing books at Barnes & Noble in the Kalamazoo area this Saturday from 1:00 – 3:00 p.m. The address is 6134 South Westnedge, Portage, Michigan. Hopefully I'll see a few of you there! (Autographed books make awesome Christmas presents, you know
)
On a related note, if you live in the U.S. and feel like giving away one (or more!) of my books for Christmas this year, I'd be happy to send you a signed bookplate to go with it. Email me at jchines -at- sff.net. I'll mail up to three bookplates per person, but you have to let me know today or tomorrow so I can get them in the mail by Saturday. Limited time offer, while supplies last, etc. and so on.
Mirrored from Jim C. Hines.
After I posted my Convention Harassment Policy Starter Kit, I learned about a study Nicole Stark had done about harassment policies at fan conventions. Stark's article is available on Google Docs, here. I've seen a fair amount of discussion on harassment policies and why we do or don't need to worry about them, but this is the first example I've seen of a more rigorous academic survey and discussion of harassment policies. Stark gave me permission to link to her paper, and to discuss some of the highlights.
ETA: Stark is a M.A. student studying sexual harassment. She asked me to share that her email address is NicoleStark@knights.ucf.edu, in case anyone wanted to follow up with her about her work.
From the abstract:
This study uses content analysis to evaluate a sample of 288 fan convention websites. These conventions took place within the United States from March to November 2013. The analysis was used to determine how common sexual harassment policies are and their characteristics. This study examined both frequencies and descriptions of codes of conduct, including promoted and prohibited rules, sanctions, reporting guidelines, and the existence of a sexual harassment or general harassment policy. Less than half of the sample contained any behavioral policy at all. Those behavioral policies that were present were found to be generally informal, unstructured, and devoid of a sexual harassment policy. However, many policies contained rules that could be used in the prevention of sexual harassment. These rules, when made clear and recognizable, may work as effective policy in informal spaces. (Page 2)
Stark opens by discussing an instance of sexual harassment from New York Comic Con, and goes on to note that:
A study on sexual harassment policy in manufacturing firms revealed that an available written policy resulted in a 76 percent reduction in one year's reports (Moore and Bradley 1997).
In other words, to anyone arguing there's no need for a sexual harassment policy, there is actual research showing that such a policy can significantly reduce sexual harassment.
I expect some people to protest that a convention isn't the workplace, and that's true. There are likely to be some differences in the dynamics and effects of a harassment policy in a convention space vs. a workplace. But the underlying premise and conclusion here is pretty straightforward: "We created a written policy on sexual harassment, and sexual harassment decreased significantly."
I assume most people would like to see sexual harassment at conventions decrease significantly as well. Ergo, creating a written policy seems like a really basic and obvious first step.
Stark's sample comes from the costume.org website's list of upcoming conventions. The cons were all from 2013, all located in the U.S., and included media, anime, literary, gaming, comics, relaxicons, and more. So what did she find in her study?
Of the 288 convention websites, 59.38%  had no listed policy on their website in regards to behavior or code of conduct. Less than half of all websites (40.62%) had at bare minimum, a behavioral policy explaining acceptable or unacceptable actions while at the convention. These rules ranged from a basic 'be polite' to lengthier explanations and examples of what was acceptable and unacceptable behavior. Of the total sample, only 3.47% used the phrase 'sexual harassment'. However, 13.88% used the word 'harassment', not detailing readily available distinctions between harassments, whether sexual, bullying, or annoying otherwise.
Fewer than half of conventions have a posted policy about acceptable behavior, let alone harassment. And the policy is only the starting point; what about instructions on reporting harassment and other unacceptable behavior?
Only 15.27% (44) of the 288 convention websites contained guidelines on reporting. Of the three conventions participating in Project: Women Back Each Other Up, only one employed the use of purple ribbons to indicate female staff members who were prepared to intervene and handle potential sexual harassment. Several policies listed that if there were emergencies, to dial 911 or building security.  This left 84.72% (244) of the convention websites devoid of response or guidance to potential victims.
Stark goes on to recommend:
…in evidence of the language and audience in these informal spaces, the following are suggestions for a comprehensive policy at fan conventions. The policies need to be recognizable and readily available (Moore & Bradley 1997), properly enforced, include and define sanctions, train employees for prevention and response, (Harmus & Niblock 2000), detail complaint procedure (Fowler 1996), and define sexual harassment in terms that the audience understands. (Emphasis added)
I have very little to add beyond Yes. That.
I recommend anyone interested in the ongoing conversation about sexual harassment in fandom read the full study. And my thanks to Nicole Stark for letting me link to and chat about her research here.
Mirrored from Jim C. Hines.
We've finally finished watching all three seasons of Avatar: The Last Airbender. I'm going to go ahead and say this is one of the best shows I've ever watched. Here's the official show description from the website, for anyone who's unfamiliar with it:
Water. Earth. Fire. Air. Only the Avatar was the master of all four elements. Only he could stop the ruthless Fire Nation from conquering the world. But when the world needed him most, he disappeared. Until now…
On the South Pole, a lone Water Tribe village struggles to survive. It's here that a young Waterbender named Katara and her warrior brother Sokka rescue a strange boy named Aang from a cavernous iceberg. Not only is Aang an Airbender–a race of people no one has seen in a century–but they soon discover that Aang is also the long lost Avatar. Now it's up to Katara and Sokka to make sure Aang faces his destiny to save the tribe–and himself. Did we mention he's only 12?
I don't know how best to talk about a three-season, 61-episode show, so I'm just going to randomly celebrate some of the things that made it work so well for me.
The Characters: Almost without exception, every character has his/her own personality and story arc. The Big Bad Fire Lord was pretty much the only one who struck me as one-dimensional, and that's partly because he barely even shows up until the very end. Everyone else felt fully human. They struggle. They make mistakes. You can connect and sympathize with almost everyone, even the villains. These are interesting people, and I wanted to spend more time with them.
The Animation: This is a beautifully animated show, from the background artwork to the various spirit creatures to the different cultural styles of dress and architecture to my particular favorite, the gracefulness of the four styles of bending. It's gorgeous to look at.
The Joy: Aang's backstory is incredibly painful. He's the last of his people, a hundred years out of his time, and is tasked with saving the world. At the age of twelve. Yet he never loses his joy in the world. He jokes, he laughs, he plays, he dances. He believes in people … but not to the point of foolishness. The show hits notes of both very real pain and ridiculous silliness (poor cabbage guy), and the full range in between. That's a hard thing to do well, and incredibly powerful when done right.
I'm putting the rest behind a cut tag, because of spoilers…
#
#
( Read the rest of this entry »Collapse )
Mirrored from Jim C. Hines.
I just posted this over on Tumblr, but wanted to share it here as well.
I've criticized The Big Bang Theory for things like its ongoing obsession with fat jokes, its casual sexism (OMG, girls don't read comics/play D&D/etc), the handling of Sheldon's autistic/OCD issues, and an ongoing sense of laughing at geeks instead of with us.
But I want to give a shoutout to something the show did recently in "The Itchy Brain Simulation." Leonard discovered a DVD he had forgotten to return for Sheldon, and started worrying about how Sheldon would react. Because we all know Sheldon can't let anything go, and would be completely annoying and freak out about the unreturned DVD, right? And then we the viewers can all laugh at the neurotic genius and ask why his friends put up with him.
Only it didn't play out that way. Sheldon countered by asking why Leonard didn't consider how annoying and difficult these things were for him. As far as I know, this is the first time Sheldon's ever stood up for himself in this way. He took it a step further, saying he'd remain calm about the DVD … if Leonard wore an itchy sweater he had gotten as a gift until the DVD was returned.
Animated gifs ahead. (I did say this was being copied from Tumblr…)
(
Read the rest of this entry »
Collapse
)
Mirrored from Jim C. Hines.
I don't know about you, but I'm tired and ready for some things to smile about.
Mirrored from Jim C. Hines.
Yesterday afternoon, Twitter called my attention to the following comment on a listserv of SF/F conrunners:
"Instead of insulting us, [Hines] could be using whatever influence he has in social media to help recruit more PoC into our circles. They need to know they'd probably be much more welcome here than they might be elsewhere. (After all, many of us would love to befriend extra terrestrials or anthromorphs.)"
I'm told that others on the listserv quickly pointed out how messed-up it was to compare people of color to aliens and monsters, and that the individual apologized, so I don't want to spend much time rehashing that part of the comment. I doubt it was deliberately intended to be racist or offensive. But I think it's worth emphasizing that this kind of unintentional and unthinking hurtfulness is, in my opinion, a big part of our problem.
I did post a snarky and sarcastic comment on Twitter in response to that "recruiting" comment:
Knock, knock. "Hello, I've come to spread the good news about fandom, where we love aliens, monsters, and even PoC!"
For the record, I consider myself part of fandom. I love our community. I love the friends I've made here. I love this part of my life. But I'm not going to ignore the serious problems we continue to struggle with when it comes to sexism and racism and inclusiveness and so on. And when individuals made racist remarks, or conventions botch their handling of sexual harassment, or another convention chair congratulates themselves on their "colorblindness" when their convention is 97% white, I'm going to keep pointing that out.
On Twitter, I was accused of driving people from SF/F fandom, and making our community look bad. I admit to being rather baffled by this. I thought things like conrunners making ignorant racist remarks were what made the rest of us look bad, not the acknowledgement and criticism of such remarks.
This bugs me a lot. It resonates with the dynamics I've seen in abusive families, where the most serious crime isn't the abuse, but talking about the abuse outside of the family. So yeah, this hits a big old button for me.
Then there's the complaint that I'm not using my "influence" to recruit other groups into fandom. Which got me thinking more seriously about the suggestion that hey, maybe I should work to try bring more diverse fans into fandom.
I'm sorry, but what the hell do you think I've been trying to do???
There are a lot of ways to try to make fandom and conventions more welcoming, and to try to encourage others to join our community. Which do you think is actually going to make people feel wanted — comparing them to aliens and monsters, or publicly denouncing the people who make such ignorant and hurtful remarks? You've got voices in fandom saying black people don't come to cons because those people don't like SF/F. Then you've got voices in fandom saying, "That's racist bullshit, we don't all believe that, and we as a community need to do better."
I know which category I'd prefer to belong to.
Some of the ways I see to try to build a more welcoming community include:
Listening to people who feel excluded or unwelcome, and acknowledging their experiences.
Challenging racist and sexist statements. Even the "unintentional" ones. Both online and in person.
Encouraging conventions to take steps to be more actively welcoming and inclusive and safe.
Examining my own racism, sexism, homophobia, and general ignorance, and trying to learn to do better.
Acknowledging when I screw up.
Publicly acknowledging and applauding the conventions and people who get it right. (Example: Readercon's follow-up to their sexual harassment screw-up. Yes, the initial response was a mess. But their follow-up should be a model to conventions everywhere.)
Using my platform as a moderately well-known fantasy author to encourage others to recognize and push back against sexism, racism, homophobia, and so on.
I'm not asking for cookies, and I'll be the first to admit I don't always get it right. I've messed up plenty of times. But yeah, my goal is, in fact, to make fandom a more welcoming place, and help it become a community that a broader range of people will choose to be a part of. Not by going door-to-door so I can drag a token black woman to my local con, but by trying to address the underlying problems making so many people feel unwelcome.
You know what isn't going to encourage people to be a part of fandom?
Pretending we don't have any problems, and that things like our "colorblindness" and "genderblindness" have resulted in a utopia where all groups feel welcome.
Using our own privileged experiences to invalidate the lived experiences of others. ("Well, as a 39-year-old white dude, I haven't experienced any sexism or racism in fandom…)
Continuing to make the same mistakes again and again. (How many times do we have to talk about conventions failing to address accessibility or create harassment policies?)
Reacting to criticism with an aggressively defensive "Us vs. Them" response.
Worrying more about burying/denying/minimizing evidence of racism or sexism or harassment than about the fact that these things keep happening in the first place.
Dismissing criticism as ignorance and maliciousness (which provides a convenient excuse to ignore said criticism).
Pointing to what progress we've made to shut down discussion of the work we still have to do.
I'm rather fond of this quote from Antoine de Saint-Exupéry:
"If you want to build a ship, don't drum up the men to gather wood, divide the work and give orders. Instead, teach them to yearn for the vast and endless sea."
There are a lot of good people trying to make fandom a better and more welcoming place. Some of them are on that listserv I mentioned in the beginning, where I'm told there has been some good and productive conversation lately. I've worked with some great people at cons and on panels. I've linked to some of them online. These are folks I believe are working to bring a broader range of people into fandom. Not by dragging or ordering them to attend, but by trying to acknowledge and fix our flaws, and to reshape fandom into a thing more people yearn to be a part of.
Mirrored from Jim C. Hines.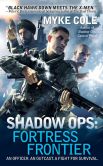 I reviewed Myke Cole's first book, Shadow Ops: Control Point, back in January of 2012. Shadow Ops: Fortress Frontier [Amazon | B&N | Mysterious Galaxy] is the sequel, and if you liked the first book, I suspect you'll like this one even more.
Book two picks up where the first one left off, but switches to the perspective of Colonel Alan Bookbinder, a military man more comfortable behind a desk than in actual combat. He's a quiet, nervous, even timid man, but when he comes up latent (displaying magical abilities), all that changes. He's drafted into the Supernatural Operations Corps, and ends up on the FOB Frontier, another world filled with magic and goblins and more.
While "write what you know" is generally a silly rule, Cole shows how it can work, using his own military background to create a solid, believable military fantasy. One of my favorite parts of the book was watching Bookbinder learn to move through his fears and develop his own leadership abilities.
Oscar Britton, the p0rtamancer protagonist from book one, also gets some point of view time in the book. It can be odd switching perspectives after spending so much time with one character, but I think it worked here. It was important to see what he's been doing since book one, and how those events have changed him.
I enjoyed meeting the naga, learning more about the creatures of the Source, and seeing how other nations are dealing with magic and this fantastic frontier. And I appreciate that Cole went back to address the potentially deadly mess Oscar Britton left behind in book one.
In some respects, this is very much a middle book. (The third book, Breach Zone, comes out in January of 2014.) While relatively self-contained, the larger story arc about how people with magical powers are treated and mistreated, as well as the secrets of the magical frontier — "the Source" — are left unresolved. Indeed, this book ups the stakes in a number of ways. Assuming book three is the last one, I expect quite the crescendo.
You can read an excerpt of the first book at Tor.com, here. If you like the excerpt, you'll probably like the first book. If you liked the first book, you'll almost certainly enjoy the second.
Mirrored from Jim C. Hines.
discussions
Does anyone know where the allusions and references list is?
I only caught Bram Stoker.
I'm googling
I miss the days when half my f-list was posting about things they'd read, because I can honestly say that well over a third of my current personal library comes from recommendations I found on LJ. And I get why the conversations have shifted offline - many of those people are now published or seeking publication, and there's such a twitchy transition from being Reader to being Author, and no one (myself included!) wants to accidentally step on toes. We're all busier, now, than we used to be and it's harder to find time to write book reports or critiques, too.
But, still.
One of my resolutions for 2014 is to write more consistently about what I'm reading, so I figured I'd give myself December as practice.
Here are some of my recent favorites, in brief:
THE PRINCESS CURSE by Merrie Haskill
First of all, I would NEVER have bothered to pick this up if a good friend hadn't insisted I give it a try. It looks like a cute and charming princess fairy tale story - perfect fluff for a 12-year-old, but nothing I've been in the mood for in quite some time. I WAS SO WRONG and I would have missed out on a really great book. This is a fascinating blend of Romanian history, fairy tale, and myth; elements of the Twelve Dancing Princesses and Beauty and the Beast are layered with overtones of Hades and Persephone, but the result is something beautifully fresh. Reveka, the main character, is a young herbalist's apprentice determined to break the curse that threatens the kingdom's political security even as it wreaks havoc with the twelve princesses. Her determination and wry humor carry the story convincingly, but the depth of her character gives it texture and deeper significance. This is not the superficial candy-fluff sort of fairy tale at all - it is darker than I'd expected, shadows and starlight and secrets. (MG)
BELLMAN AND BLACK by Diane Setterfield
I am, frankly, surprised by the number of negative reviews online because I LOVED this book. It is gorgeously written, brilliantly executed, and deeply symbolic. It's the sort of story you can twist and turn in your mind to find different interpretations, and yet the theme - what the story really
is
- never changes. It's about thought and memory, life and death. And... okay, I can see why people say it's dark and grim and brooding - but for me? It's a lesson in hope and living in the moment - in loving while letting go. It reminds me, vividly, of Dickens'
A Christmas Carol
even though it isn't really a holiday story at all.
The story begins with William Bellman impulsively striking a crow with a stone from his slingshot from an improbable distance. Though he forgets the incident for some years, it comes back to haunt him in his adulthood. As a driven, fastidious, precisely-controlled businessman, he can never
quite
escape the shadow of his regrets and fears.
I don't think it will spoil anything if I warn you that there is no happily-ever-after. Bellman is not a Scrooge to wake up on Christmas morning with a second chance - there are no second chances, no escapes, no erased consequences here. And yet there is still hope, and the story is still darkly beautiful - even if that beauty is cloaked in tragic shadows.
I read this book weeks and weeks ago, and yet it has stuck with me. I keep seeing symbols and motifs I didn't consciously notice while I was reading, and recognizing foreshadowing I barely saw at the time. This is a wonderful book, but maybe you have to be in the right mood for it. (Adult)
THE HOUSE OF SILK by Anthony Horowitz
As a young reader and again as a teen, I had a passionate love for all things Sherlock. When I spotted this on a bargain table, I grabbed it despite my general reluctance to read someone else's contributions to an original body of work. And I have to say that I genuinely enjoyed this. Horowitz does an admirable job of maintaining a tone of authenticity and his version of Watson and Holmes is credible. The mystery itself, however, was much grimmer than I'd expected and I felt that the resolution lacked... I don't know what, precisely... Maybe it felt rushed, to me? Or too convenient? In the originals, even though Sherlock solves the cases through what feels like a twist of convenience or some improbable leap of intuition, he's always able to point back to the specific clues that led him to his conclusions. In this case, however, I couldn't quite believe that logic had contributed as much as luck. Still, a fun read if you like this sort of thing. (Adult)
I CAPTURE THE CASTLE by Dodie Smith
Bought this as a daily deal for my kindle and I am so glad I did. I ADORED this book. It is utterly charming and surprisingly hard to put down. Cassandra and her family live in a ramshackle castle on a long-term lease, though they haven't paid rent since their landlord died. The father is - was, once - a famous author with one incredible success to his name, but he hasn't written a word in twelve years. Cassandra and her sister fear he never will again, and his increasingly eccentric seclusion weighs heavily on them. Their stepmother, an artist's model prone to flightiness and yet with startling moments of earthy practicality, has a talent for holding things together despite their poverty and lack of prospects. But Rose, Cassandra's older sister, is desperate for a chance at a new life - even if it means wishing on a gargoyle, praying to the devil, and marrying a man she dislikes.
Cassandra documents their lives in a series of journals; her wry and witty observations lend humor and charm to what could be a sordid and depressing tale of woe. The wisp of romance provides beauty and poignancy - but it is her own growing maturity and self-awareness that made me love the book so deeply. (Adult / YA)
Last post of the day, I swear. (This is what happens when my FIL decides to mow the bridle path...)